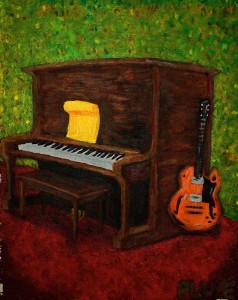 I used to paint when I was a kid.
I painted pictures of Elvis.
Guy Lafleur.
Bobby Orr.
Then I stopped.
Fast forward 25 years…
I started painting (again) in September of 2003.
We had just moved to Toronto and, as far as I was concerned,
I had put my guitar away for good.
I didn't think I'd write another song or for that matter ever play guitar again.
And to make matters worse,
I didn't care.
I was done.
What I didn't realize is that I still needed a release artistically.
One day I was walking along Queen Street in Toronto.
I walked by the Horseshoe Tavern.
I thought of how my life used to be.
I kept walking. "Good riddance", I said to myself.
"Those days are long gone."
About 6 doors down from the Horseshoe is an art supplies shop.
I'd never been in there before.
In fact, I'm not sure I'd ever seen it before.
I walked in,
and ten minutes later I had bought everything shy of a beret to make me feel like I was a painter.
Paints.
Brushes.
Canvas.
An easel.
You name it, I bought it.
The first thing I tried to paint was an image I had in my head of a guy in a pool hall.
Garbage.
Which is exactly where it went.
I put my foot through it.
Took out a knife and tore it to bits.
Bad canvas!
Bad bad canvas!
I needed a "subject" to paint.
A picture.
Something.
Anything…
Jesus, anything but my imagination.
I couldn't just paint off the top of my head.
Who the hell did I think I was?
There was a picture in a frame on our bookshelf of Jenny and I walking down 5th Avenue in NYC the day after our wedding.
So that's what I painted.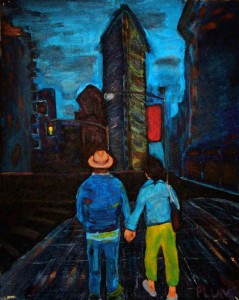 Poorly.
But I enjoyed the hell out of it.
I painted for the 9 months Jenny was pregnant with Ruby.
A week before she was born, I took out my guitar and wrote 15 songs.
I haven't painted since.
But I keep threatening to start again.
Mike Plume